08 Mar

Celebrate Women's History Month by Taking Action: Utilize A New Online Resource to Run for Office and Make a Difference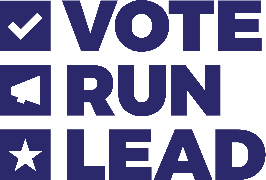 Women have long been underrepresented in political office, but an organization called Vote Run Lead is hoping to change that. In celebration of Women's History Month, the nonprofit has launched VRLHQ.org, an online resource with over 100 expert-curated tools and resources to empower women to run for political office – and win.
"Running for office is challenging," said Erin Vilardi, CEO of Vote Run Lead. "But learning how to run for office has obstacles. Vote Run Lead wants to ensure that women have the tools they need to run for office and win — and make a difference in their communities."
VRLHQ.org is a digital one-stop shop that features videos of elected officials and political contributors, podcasts, and downloadable worksheets that help candidates tell their own unique story. Team-building exercises, guidance for candidates and campaign managers, and nuts-and-bolts fundraising advice are also available.
The curated collections meet candidates at every stage of their campaign journey or in any location – whether they are getting ready to run, running in rural America, or running in key states. VRLHQ is an extension of Vote Run Lead's Run/51 campaign, which aims to achieve equal representation by women in government leadership roles.
Women have historically faced barriers to entering politics, and according to a national Vote Run Lead poll, 85 percent of women respondents and 71 percent of men said that the country would be better if more women were elected. VRLHQ.org is an excellent resource to help overcome some of the obstacles to political office and increase female representation in government.
If you are a woman considering running for office, or you know someone who is, head over to VRLHQ.org to find out more about the resources available. With the right tools and support, women can make a real difference in their communities and in the political landscape.
For even more resources to help you get inspired and ready to run, check out Project Elect's Resources page.